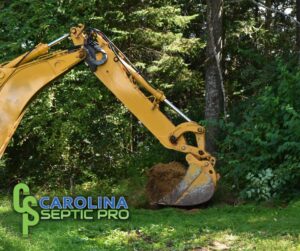 Licensed, insured, and supported by thousands of happy and satisfied customers, Carolina Septic Pro is the greater Charlotte area's best contractor for excavation, earth moving, land grading, pond digging, and more. We are a team of experienced excavators that are here to help both residential and commercial construction projects get completed safely, on time, and under budget.
Charlotte Area Excavation Company
Although we are most recognized for our septic services, excavation has always played a huge role in the success of our business. We are a full-service excavation contractor, complete with a team of highly skilled workers, decades of industry knowledge, and up-to-date equipment to complete jobs of every size and capacity.
Earthmoving and Grading Services
Rocks, trees, dirt, gravel, and more: no matter what you need to move, we will make it happen. Our earthmoving services help to literally lay the groundwork for small and large construction sites, with all the careful considerations necessary to ensure a site is properly prepared.
When it comes time to grade your property, our team will clear and level the earth before we can slope it as necessary for construction, drainage, and more.
​​Pond Digging Service and Culvert Excavation 
At Carolina Septic Pro, we know just as much about moving the earth as we do about the safe flow of water and drainage. So, if your site involves a pond excavation or culvert installation, our team can help with both the design and construction of any appropriate drainage runway.
Contact Carolina Septic Pro Today!
For pond digging, earthmoving, land grading, and a full suite of site preparation services, please contact Carolina Septic Pro today for fast and reliable services. Including some of the most capable excavation contractors on this side of the Appalachian Mountains, Carolina Septic Pro is open for businesses in Charlotte, Fort Mill, Newport, Rock Hill, Huntersville, Concord, China Grove, and beyond.