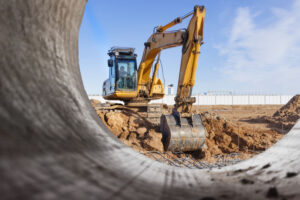 Offering site prep services in North and South Carolina, Carolina Septic Pro is a one-stop shop for residential and commercial trenching, lot clearing, and construction site prep services. With countless happy customers to date, we are here to help with professional site prep services that are fast, affordable, and reliable, every single time.
Charlotte Area Site Preparation Company
As a company that specializes in septic services, we are not afraid to get our hands dirty to ensure efficient and safe site preparation for new construction projects of all shapes and sizes. Whether it is a tear-down and rebuild or you're developing a piece of property for the very first time, our experts will do everything it takes to have the lot clear and level with the grading and excavation necessary for the site to look and function as well as possible.
As a structure is only as sound as the foundation upon which it is built, site preparation is one of the most important steps in the construction process. If you'd like to guarantee a smooth construction process, hire Carolina Septic Pro to ensure that you are in good hands.
Trenching Excavation and Lot Clearing Services
Our trenching services are available to residential and commercial land developers in and around the Charlotte, NC area. Whether you're connecting to a septic tank, well, or utility infrastructure, we dig the necessary trenches with the best-laid excavation. Our team arrives on-site with all knowledge and equipment necessary to get the job done.
Contact Us to Learn More
From Salisbury, NC to Rockville, SC, and everywhere in between, Carolina Septic Pro is the Charlotte area's go-to source for professional site prep services. We are fully licensed, insured, and always interested in learning how we can help our next customers. If you would like to book a consultation or simply want to learn more about our 5-star services, please do not hesitate to contact us today to begin.